>
>

Addictive substances and behaviours
Addictive substances and behaviours
We can become addicted both to substances and to behaviours.
Substances
Addiction to substances can take the form of excessive use of, and dependence on:
Alcohol
Tobacco
Certain prescription medications
Illicit drugs such as ecstasy, cocaine, or heroin
Behaviours
Addiction to behaviours can take the form of being excessively dependent on performing an activity or having an experience. For instance, we can become addicted to:
Sex
Gambling
Exercise
Pornography
Over-eating
Under-eating
Around half of all people with addiction engage in more than one type of addictive behaviour.
George Ainslie, the psychiatrist and behavioural economist, summarises the matter by writing that:
Addictive behaviour occurs when people repeatedly choose pleasure now without worrying about future pain.Szalavitz, M. (2016). Unbroken Brain. New York, NY: Picador, p.161.
Addiction and mental health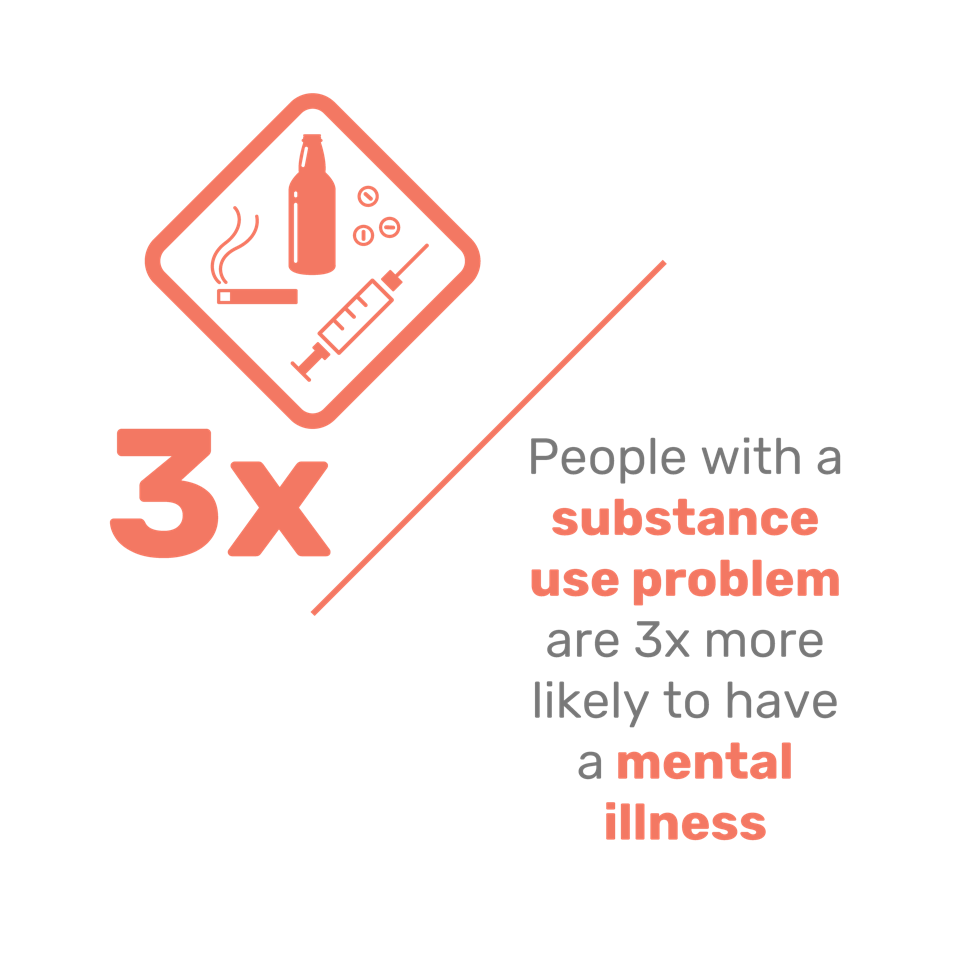 Rush et al. (2008). Prevalence of co-occurring substance use and other mental disorders in the Canadian Population. Canadian Journal of Psychiatry, 53, pp. 800-9.
Addiction can be both a symptom of mental health issues, and a contributor to them.
There is a very strong correlation between mental health issues and addiction.Bussing-Birks, M. (2017). 'Mental illnsss and substance abuse'. National Bureau of Economic Research. [online] Available at: http://www.nber.org/digest/apr02/w8699.html [acccessed 2 Nov. 2017]. At least 50% of people with addiction – according to some studies, as high as 98% – have a mental health condition.
Addiction can both trigger and be triggered by:
Obsessive Compulsive Disorder (OCD)
Attention Deficit Hyperactivity Disorder (ADHD)
Psychosis
Bipolar disorder
Addiction as a contributor to mental health issues
Being addicted to substances or behaviours can negatively impact our mental health. It can also cause physical problems, which may in turn contribute to mental health issues.
The habitual use of toxic and addictive substances can cause:
During intoxication, or the acute stages of withdrawal, addicted people may experience:
Impaired judgement
Cognitive impairment
Psychosis
Chronic addiction can also alter the body's biochemistry, and directly or indirectly contribute to nutritional and physiological imbalances such as hormone and neurotransmitter imbalances.Lake, J. (2009). Integrative Mental Health Care. New York, NY: W.W. Norton & Co., p.260.
These in turn can contribute to, or exacerbate, mental health issues:
The long-term abuse of drugs and alcohol can contribute to structural and chemical changes in the brain. This can affect many of its functions, including our judgement, decision-making, stress levels, memory, and behaviour.National Institute on Drug Abuse. (2014). 'Drugs and the brain'. [online] Available at: https://www.drugabuse.gov/publications/drugs-brains-behavior-science-addiction/drugs-brain [accessed 2 Nov. 2017].
Addiction can change our brain chemistry, in particular our neurotransmitter balance. For instance, heavy substance use can cause the repeated release of dopamine (a neurotransmitter controlling the brain's pleasure centres). Over time, the brain may respond by reducing its production of dopamine, or its number of dopamine receptors.Scott, T. (2011). The Anti-Anxiety Solution. Oakland, CA: New Harbinger Publications, p. 64.
We then need more of the substance to keep feeling the same levels of pleasure. This can make it harder for us to give it up, leading us to consume it in greater amounts. This in turn, can worsen the other effects of addiction.
Chronic alcoholism and drug addiction can contribute to a range of nutritional deficiencies and blood sugar issues. These in turn can contribute to, or exacerbate our mental health symptoms, and increase our desire to self-medicate further.
Some examples of these problems include:
Mineral and electrolyte imbalances
Mineral and electrolyte imbalances are extremely common among addicted individuals, due to a poor diet and regular diarrhoea. This can lead to the depletion of natural stores of copper, iron, magnesium, and zinc. It may also cause deficiencies in sodium, calcium, or potassium, which can, in extreme circumstances, prove fatal.Nabipour, S., Ayu Said, M., Hussain Habil, M. (2014). 'Burden and nutritional deficiencies in opiate addiction – systematic review article'. Iranian Journal of Public Health, 43(8), pp.1022–1032.
Vitamin imbalances
Many alcoholics have abnormally low blood levels of vitamins A, B (especially thiamine, folate, and B6), and C, all of which are essential to mental health. In particular, a lack of vitamin B6 can cause mental confusion and skin problems, while a lack of B1 can cause alcoholic dementia and cardiovascular issues.Lake, J. (2009). Integrative Mental Health Care. New York, NY: W.W. Norton & Co., pp. 260–265.
Essential fatty acid imbalances
Addicted people often show marked deficiencies in certain essential fatty acids, which are central to the brain's production of hormones and other brain chemicals, and therefore to our mental health.Lake, J. (2009). Integrative Mental Health Care. New York, NY: W.W. Norton & Co., p. 261.
Blood sugar issues
Consuming high levels of caffeine and sugar can cause hypoglycaemia, which can trigger symptoms of anxiety, mood swings, and impaired cognitive function.Lake, J. (2009). Integrative Mental Health Care. New York, NY: W.W. Norton & Co., p. 263.
Homocysteine levels
Research suggests that alcohol consumption can increase homocysteine levels, which are associated with heart disease.Bleich, S., Bleich, K., Kropp, S., Bittermann, H.-J., Degner, D., Sperling, W., Rüther, E., Kornhuber, J. (2001). Moderate alcohol consumption in social drinkers raises plasma homocysteine levels: a contradiction to the "French Paradox"?' Alcohol and Alcoholism, 36(3), pp. 189–192.
Mental health effects of common addictive substances
Different addictive substances can affect our minds and bodies in different ways.
Three of the most common, especially in affluent Western society, are caffeine, alcohol, and recreational drugs.
Caffeine is a stimulant, which is why drinking a cup of coffee or a caffeinated soda gives us a temporary surge of energy. Coffee is also full of antioxidants, and can have a healthy impact on the brain.
Drinking caffeine to excess, however, can cause symptoms such as:
Caffeine addiction can then lead to withdrawal symptoms, including:
Some people can consume a lot of coffee without showing any ill effects.
In the case of caffeinated sodas, however, the sugar they contain may also be detrimental to our mental health, so it can be doubly damaging.
While at first it has a calming, relaxing effect, alcohol can subsequently increase our levels of cortisol (the stress hormone), leading to anxiety, and it often has a depressive effect as well.
Severe cases of alcohol intoxication and/or withdrawal can cause symptoms that are 'sometimes mistakenly interpreted as a primary psychiatric or medical disorder':Lake, J. (2009). Integrative Mental Health Care. New York. NY: W.W. Norton & Co., p. 260.
Cognitive impairment
Psychosis
These symptoms may put a strain on relationships with family and friends, and can often interfere with the individual's ability to function at work.
Alcohol can also cause nutritional imbalances, neurotransmitter imbalances, and blood sugar issues. Being a toxic substance, there are numerous ways in which it can damage our bodies:Perlmutter, D., Colman, C. (2004). The Better Brain Book. New York, NY: Riverhead Books, p. 27.
It dehydrates our bodies generally, damaging our skin and the ability of our brains to function
The toxic chemicals it contains cause free radicals, which can damage the membranes in the brain
More than four units of alcohol inhibits detoxification, and puts a heavy burden on the liver
Most recreational drugs are damaging to our brain chemistry, and cause severe imbalances in neurotransmitters, which can lead to:
Recreational drugs can be highly addictive, sometimes causing addiction after only a single use, and once someone is addicted to them, it can become extremely difficult to stop taking them.
Depending on the substance used and the biochemistry of the user, taking recreational drugs may also prove fatal, whether after a period of chronic use or even a single use (through an overdose or a 'bad reaction').
Mental health as a contributor to addiction
While addiction is a key contributor to mental health issues, those issues can often be contributors to addiction too.
There is no one factor alone which can cause or prevent addiction. It's the result of a combination of factors, which include stress, trauma, genetic disposition, biochemical imbalances, and more.Sheff, D. (2014) Clean. New York, NY: Mariner, p. xi.
There is usually a strong link between mental health issues and addiction. People with undiagnosed or untreated mental health issues often want to alleviate their symptoms, or distract themselves, and may try to self-medicate with addictive substances and/or behaviours.
Those with depression, anxiety, poor concentration and attention, poor memory and insomnia may try to escape the discomfort of their condition through the repeated use of substances and behaviours.
Two good examples of this are autism/Asperger syndrome, and Attention Deficit Hyperactivity Disorder (ADHD). They are often interconnected:
Between 30% and 50% of autistic people have symptoms of ADHD
Two-thirds of people with ADHD show autistic traits
People with Asperger syndrome and autism are predisposed to over-learning, and so their repetitive habits can become more deeply rooted over time.
They may use addictive substances or behaviours to alleviate their symptoms, which can include:
Oversensitivity
Social anxiety
Difficulty connecting with others
Depressive tendencies
An inability to regulate emotions and behaviour
A primary symptom of ADHD is impulsivity, and impulsive behaviour is often associated with drug use. Around 20% of people who abuse narcotics have ADHD, at least four times higher than that seen in the general population.Szalavitz, M. (2016). Unbroken Brain. New York: Picador, p. 54.
ADHD has also been shown to be a significant risk factor when combined with nicotine and alcohol consumption.Ohlmeier, M., Peters, K., Kordon, A., Seifert, J., Te Wildt, B., Wiese, B., Ziegenbein, M., Emrich, H. and Schneider, U. (2007). Nicotine And Alcohol Dependence In Patients With Comorbid Attention-Deficit/Hyperactivity Disorder (ADHD). Alcohol and Alcoholism, 42(6), 539–543. Available at: https://pdfs.semanticscholar.org/422b/2a5b3137e13e3b72f27d507623bbe58fde2a.pdf [Accessed July 2016].
Other symptoms of untreated ADHD include:
People struggling with undiagnosed ADHD may resort to self-medication in an attempt to manage these symptoms. For example, they may use addictive substances in an attempt to:
Slow themselves down (hyperactivity)
Aid their sleep (insomnia)
Boost their mood (depression)
This use can quickly turn into dependence.
It is worth noting, however, that the risks of dependence are often overstated. For instance, the prescription of stimulant drugs to treat ADHD has been blamed in the media for drug addiction. But one long-term study, which followed one hundred boys with ADHD for ten years, showed no increased risk of substance abuse in the boys who took medication.Molina, B., Pelham, W. (2014.) 'Attention-Deficit Hyperactivity Disorder and risk of substance use disorder'. Annual Review of Psychology, 10, pp. 607–639.
Other contributors to addiction
Many addictive substances are legal and readily available, such as alcohol, cigarettes, and prescription medication. Some people can use them at various intervals and never become addicted, while others can develop an addiction after only a single use. We all have different levels of tolerance.
Most of us do not become addicted to these types of substance:
In the U.S., the National Institute on Alcohol Abuse and Alcoholism has estimated that '87% of adult Americans drink, yet 87% of Americans are not alcoholics'.Grace, A. (2015). This Naked Mind: Control Alcohol, Find Freedom, Rediscover Happiness and Change Your Life. ASPN Publications, p. 40.
In fact, only '10 to 20%' of people who try even 'the most stigmatised drugs like heroin, crack, and methamphetamine' end up addicted to them.Szalavitz, M. (2016). Unbroken Brain. New York, NY: Picador, p. 4.
But when someone does have a tendency towards addiction, occasional use can swiftly become habitual.
Some factors in our propensity to become addicted include: