>
>

Lack of appropriate exercise
Lack of appropriate exercise
Getting the appropriate amount of exercise is essential for our mental health.
A sedentary lifestyle and insufficient exercise can lead to:
Each person has their own physical needs. An appropriate level of exercise is one that's adapted to our specific needs and our state of health and energy.
Exercise and mental health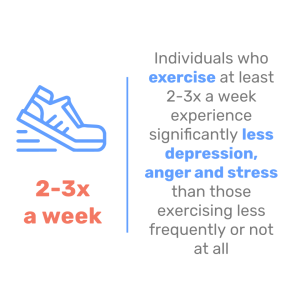 Hassmen, P., Koivula, N., Uutela, A. (2000). 'Physical exercise and psychological well-being: a population study in Finland.' [online] Prev. Med., 30(1), pp. 17-25. Available at: https://www.ncbi.nlm.nih.gov/pubmed/10642456 [accessed 01 Oct. 2018].
Research has shown a clear correlation between lack of exercise and poor mental health.Halliwell, E., Main, L., Richardson, C. (2007). 'The fundamental facts'. [online] London: Mental Health Foundation, p.56. Available at: https://www.mentalhealth.org.uk/sites/default/files/fundamental_facts_2007.pdf [accessed 20 Aug. 2017].
Exercise has many benefits for mental health, and they are accessible to most people:
Almost anyone can do some sort of exercise, whatever their physical, mental, or socio-economic circumstances
Exercise is time-efficient: it's effective even if you only take 20–30 minutes, three times a week
Exercise is a keystone habit: it usually leads to other good habits, such as better sleep and better nutrition
But if we don't exercise, our mental health can be affected in a range of ways. A selection of these are listed below.
Too much exercise and mental health
Doing too much exercise isn't as common as doing too little — the rate of obesity is increasing in most major countries, and it isn't declining in any.Ng, M. et al. (2013). 'Global, regional, and national prevalence of overweight and obesity in children and adults during 1980–2013: a systematic analysis for the Global Burden of Disease Study'. The Lancet, 384(9945), pp.766–781.
But for those who do exercise regularly, there's a risk that they can take it too far.
By 'too much', we mean exercise that's too intense, rather than too often. In an ideal world, everyone would get some exercise every day; what's important is that its intensity is adapted to our individual state of health, energy, and needs.
Overly intense exercise, just like a lack of exercise, can lead to:
Irritability
Exhaustion
Poor memory
Poor concentration and attention
Insomnia
Anxiety
Depression
Our exercise may be poorly adapted to our current physical state, and/or too intense, if we have the following symptoms within forty-eight hours of exercising:
Muscle aches and fatigue
Injuries
Exhaustion
Sleep issues
Poor memory
Poor concentration and attention
Cold hands and feet
Over-exercising can add to our allostatic load, and/or can cause imbalances in our stress hormones.
Allostatic load
Allostatic load is the chronic wear-and-tear on our bodies.
A high allostatic load taxes our metabolic reserves
Strong metabolic reserves enable us to withstand stress
So, if our metabolic reserves are depleted through a chronically high allostatic load, we will have a reduced stress tolerance
High-intensity exercise can add too much to our allostatic load
Whether exercise is helpful for our mental health or not can therefore depend on our allostatic load. It's essential to adapt our exercise to both our allostatic load and our metabolic reserves.
Stress hormone imbalance
Just as the right amount of exercise can help balance our stress hormones, too much of it can throw them off balance.
Exercising too intensely (e.g. ultra-marathon running) can increase levels of the stress hormone cortisol, so that they remain high long after exercise. The possible effects include:Talbott, S. (2007). The Cortisol Connection. Alameda, CA: Hunter House, p.24, pp. 91–92, p.145.Talbott, S. (2007). The Cortisol Connection. Alameda, CA: Hunter House, pp.251–252.Talbott, S. (2007). The Cortisol Connection. Alameda, CA: Hunter House, p.24, p.92.
A negative impact on hormonal balance and the nervous system, which can translate into mental health issues such as anxiety, insomnia, and depression
An increase in the body's cortisol sensitivity
Research on overtrained athletes, who have high cortisol due to excessive exercise, shows that they can also suffer from:
Fatigue
Depressed mood
Poor mental performance
Poor physical performance
If we are under intense stress, or have insomnia, we should avoid over-exercising. We risk overloading our bodies with cortisol and straining our adrenal glands further, which may make our mental health issues worse.