>
>

Biohacking for brain health: why simple hacks can help us recover from poor mental health to become boundless in mind, body and spirit
Biohacking for brain health: why simple hacks can help us recover from poor mental health to become boundless in mind, body and spirit
Show Description
Ben Greenfield is one of the world's leading biohackers. Voted by the NSCA as America's top personal trainer, he is also a health consultant, nutritionist, physiologist, competitive athlete, 13-time Ironman triathlete and New York Times bestselling author of 13 books, including the wildly popular Beyond Training: Mastering Endurance, Health, & Life and Boundless: Upgrade Your Brain, Optimize Your Body & Defy Aging.
With a focus on brain hacks for improving mental health, in this fascinating interview Ben explains why rebooting communication between our nervous system and brain is fundamental to our mental health and wellbeing. He discusses why our emotions, intellect, motivations, cravings, focus and ability to feel whole, human and "boundless" can be drastically impacted when communication between our brain and body is poor. The interview packs a punch and covers an extensive discourse on the many biochemical causes of poor mental health (including neurotransmitter and hormone imbalance, insomnia, dysregulated nervous system, poor diet and gut issues), and he suggests surprisingly simple ways we can recover from anxiety, depression, low mood, stress, poor memory, addiction, fatigue, poor motivation etc.
In this lively and incredibly educational conversation, learn why neurotransmitters (serotonin, dopamine, acetylcholine) can drive poor mental health; discover why neurotransmitter testing, DNA testing and hormone profiles offer helpful tools for understanding the root causes of poor mental health; and discover how our diets (protein and amino acid intake, ketogenic diets etc) are the building blocks of our neurotransmitters and our hormones, and why when depleted or dysregulated they are a major cause of poor mental health. Discover how diet, quality sleep, cold therapy, calming the nervous system and taking care of our Soul can hack our brains for greater happiness and health, enabling us to become truly "boundless" in mind, body and spirit.
Learn about:
Common drivers of poor mental health (depression, anxiety, insomnia, eating disorders, addictions,

etc), including neurotransmitter and hormone imbalance, inadequate diets and poor sleep

Top brain hacks for improving poor mental health, including dietary protein, amino acids, cold thermogenesis, sleep hacking, balancing the HPA (hypothalamic-pituitary-adrenal) axis and rebalancing the nervous system 

Ways neurotransmitters (serotonin, dopamine, acetylcholine) control our mood and mental health, and why they are a common cause of addiction, anxiety, depression, eating disorders, brain fog, memory loss, etc

Why questionnaires (such as the Braverman Test) are more successful than urinary samples at testing neurotransmitter levels, and why testing is key to treatment 

Why diet is essential to the production of neurotransmitters and ways to boost and rebalance them (including adding vitamin B12 complex, amino acids, protein, olive oil and fish to our diets)

How vegetarians and vegans can boost their protein intake and neurotransmitter levels (without experiencing the gut distress often associated with plant based diets) including consumption of seeds, nuts, fermented foods, oatmeal, soaked foods, probiotics, etc

What cold thermogenesis is, and why reducing the temperature of the head in particular can help reboot the nervous system

Why poor mental health and poor sleep are integrally related, and how to sleep better for better mental health (including increased exposure to natural light, keeping cool, noise reduction, good sleep associations) 

The truth about ketogenic diets, fasting, and detoxing and why they are so good for your brain health (by burning fats, producing ketones and reducing inflammation) 

Why to choose candy floss over crisps, and why oxidised fats (vegetable oils, rapeseed oils, etc) are the true villains of poor mental health 

Key hacks for nervous system rebalancing and gut and brain permeability repair (including fish oils, magnesium, turmeric, ginger, stress relief, good sleep, meditation, cold exposure, vagal and cranial nerve stimulation)

When nootropics (smart drugs) can replace SSRIs and other psych meds, and why a personalised approach is key

Why humanity, purpose, love and meaning are the most vital components of good health and happiness, and why taking care of our Soul is more important than anything else
About Ben Greenfield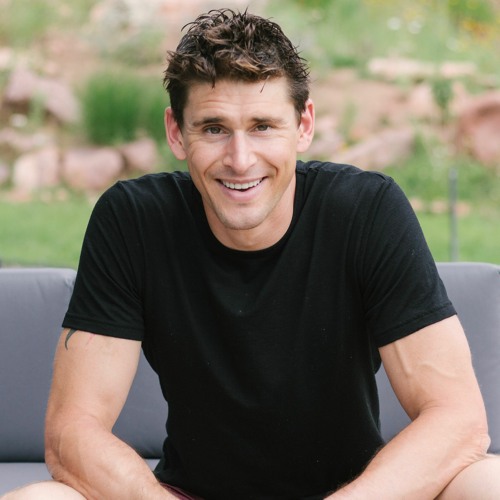 Ben Greenfield is a health consultant, speaker, and New York Times bestselling author of a wide variety of books including the widely popular titles Beyond Training, Boundless, Fit Soul, Spiritual Disciplines Journal, the Boundless Cookbook and Endure. A former collegiate tennis, water polo and volleyball player, bodybuilder, 13-time Ironman triathlete and professional obstacle course racer, Ben has been voted by the NSCA as America's top Personal Trainer and by Greatist as one of the top 100 Most Influential People In Health And Fitness.
A frequent contributor to health and wellness publications and websites and a highly sought-after speaker, Ben's understanding of functional exercise, nutrition, and the delicate balance between performance and health has helped thousands of people around the world achieve their goals and improve their quality of life–from high-level CEOs to soccer moms to professional athletes and beyond. Ben also seeks to teach and inspire people to fully experience and joyfully savor all of God's creation while optimizing their physical health.
Ben is an advisor, investor, and board member of multiple corporations in the health and fitness industry, and is also the co-founder of the nutritional supplements company KION, a nutritional supplements company that combines time-honored superfoods with modern science to allow human beings to achieve peak performance, defy aging, and live an adventurous, fulfilling, joyful and limitless life.
Via online, phone, e-mail and in-person consulting, Ben coaches and trains individuals all over the world for health, longevity, and performance. He also works with corporations and teams for body and brain performance enhancement, and specializes in productivity, faith, family, fat loss, digestion, brain, sleep, hormone, anti-aging, parenting, relationships, mental performance and overall wellness for achieving an optimized life.
Ben hosts the highly popular fitness, nutrition, and wellness website BenGreenfieldLife.com, a site with over a million monthly visitors, featuring articles, podcasts, and product reviews from Ben. In addition to multiple daytime and reality TV show competitions, Ben has also appeared in and been a contributor to Forbes, Men's Health, Huffington Post, Fox News, Triathlete magazine, LAVA magazine, Endurance Planet, and has been featured in WebMD, Prevention magazine, Shape magazine, Men's Health, Men's Fitness, Women's Running magazine, Inside Triathlon, NBC, Fox, Entheos Academy, CreativeLIVE, MindBodyGreen, Udemy, Veria Live TV, CBS Sports, MindValley University, Outside Magazine, and beyond.
As a public speaker on longevity, anti-aging, biohacking, fitness, nutrition, cognition, positive psychology, motivation and spirituality, Ben has hosted several top ranked fitness and health podcasts in iTunes, including most notably the Ben Greenfield Life show. Ben speaks around the world and in addition to presenting multi-day conferences in global hotspots such as Sweden, Finland, Dubai, London, and Thailand, he has been a keynote lecturer at private financial and corporate events, the Hawaii Ironman World Championships Medical Conference, Biohacker's Summits, PaleoFX, MindValley, American Academy of Anti-Aging Medicine, Academy of Regenerative Practices, CalJam, FitCon, Tedx, The Ancestral Health Symposium, Runga, CASI and numerous other private health retreats.
Ben's mission is to serve those who, like himself, desire to live life to the fullest, experience deep meaning, purpose, happiness, fulfillment, and connection, explore and enjoy every nook and cranny of God's great creation, and discover how to achieve full optimization of mind, body, and spirit with boundless energy.
Ben lives in the Inland Northwest with his wife, Jessa, and twin sons, River and Terran, where he exercises, fiction, guitar, ukulele, spearfishing, bowhunting, pickleball, plant foraging, cooking and savoring all of God's creation.
Show Notes
Connect with Ben Greenfield:
Publications:
Resources Mentioned: