Sleep better
As we have seen, poor sleep can be both a cause and a consequence of mental health issues.
Whether it's a cause or a consequence of your mental health symptoms, it is essential to try to re-establish healthy sleeping patterns to improve your mental health. Below are some techniques which can help.
Daytime habits
We can lay the foundations for a good night's sleep long before bedtime. Make sure that your day reflects the night you want to have and incorporate daily habits which will improve your night time sleep.
Bedtime habits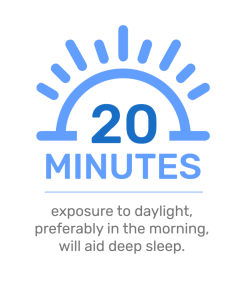 If you were putting a child to bed, you would help them wind down, turn off their lights, and make sure their room was comfortable. As adults, we need to establish our own rituals to calm down and prepare for healing sleep.
Follow the following guidelines for good sleep hygiene and quality sleep:
Electronic devices
A wide variety of electronic devices are now available to help you improve your sleep, from apps to monitor your sleep, to alarm clocks that lull you to sleep and wake you up naturally by simulating sunset and dawn.
Your brain oscillates daily between four different brain waves:
Delta waves (associated with deep sleep – 0-4 cycles/second)
Theta waves (light sleep or drowsiness – 4-8 cycles/second)
Alpha waves (wakeful but relaxed alertness, focused and creative – 8-13 cycles/second)
Beta waves (fully alert, to stressed – 13-40 cycles/second)
Talbott, S. (2007). The Cortisol Connection. 2nd ed. Alameda, CA: Hunter House, p. 196.
In an ideal world your brain would make a smooth transition from Delta to Theta to Alpha to Beta throughout the day. This would facilitate optimal sleep and cortisol control. Due to stress, people spend too much time in Beta and not enough time in Theta, Alpha or even Delta. This can disrupt sleep patterns as well as hampering focus and creativity.Talbott, S. (2007). The Cortisol Connection. 2nd ed. Alameda, CA: Hunter House, p. 197.
To induce relaxation and aid sleep, try listening to some binaural beats online.
There are also many apps available which help generate the brain waves necessary for sleep. To reduce the amount of time before you fall asleep, try listening to them with earphones.
There are a number of electronic devices and apps which can help monitor our sleep, thereby giving us a better understanding of the quality and quantity of our sleep. We can use this information to tweak our habits to sleep better.
Fitbit sleep
Allows you to

Record the duration of your sleep
Set a silent alarm which wakes you with a gentle vibration
Understand your sleep quality by tracking light, deep and REM sleep
Work towards a consistent sleep routine, by giving you reminders to stay on track
Garmin Vivosmart and Garmin Vivoactive
During sleep mode, the device monitors your rest
Sleep statistics include:

Total hours of sleep
Periods of movement
Periods of restful sleep
Sleep-monitoring apps for iPhone and Android:
Sleep Cycle
Choose your wake-up time, and the app will gently stir you from your slumber during your lightest phase of sleep to ensure that you wake up feeling rested, refreshed, and ready for the day ahead
Sleep Time
Sound-based apps
Pzizz
Through examining clinical studies, Pzizz has developed sound sequences and dynamic dreamscapes that are tailor-made for each portion of the sleep cycle
Light therapy has been shown to be effective for a number of sleep-related issues, particularly those related to onset of sleep timing. There are dawn and dusk simulators that work in one's house to fluctuate lighting indoors relating to typical diurnal patterns. Light therapy involves exposure to a light source, typically a specialized fluorescent lamp. The lamp includes the light source, with a diffusing screen and filter, which protects from UV light.
Dawn simulation
Human beings are hardwired to rise with the morning light. Dawn simulators help you wake up gradually, in keeping with your body's circadian rhythm. Early morning bright light exposure is highly effective in treating insomnia caused by a disruption in circadian rhythms (e.g. jet-lag).
The device simulates the appearance and speed of a natural sunrise
After a few hours of sleep your eyes are so sensitive that they register the change in light through your eyelids — you are programmed, by evolution, to wake up at this cue
The hypothalamus registers the light and triggers several physiological reactions

Your brain waves shift state
Dreams disperse
Your body temperature rises
Your cortisol levels rise
You become increasingly less interested in going back to sleep

While you are becoming increasingly conscious, the brightness of the light increases
Light exposure suppresses melatonin production, and improves daytime wakefulness and energy levels
Look for a dawn simulator that allows a minimum of 30 minutes of dawn, have an alarm that can be used as a 'backup' for the first few nights, and are also able to simulate dusk as an aid for falling asleep. Schedule the light to turn on 30 or 45 minutes before your appointed wake-up time. You can experiment with the duration that works best for you.
Supplements
Certain minerals, herbs and amino acids can be beneficial for sleep and promote relaxation.