Correct your nutrition and supplement
Eating the right diet and digesting and absorbing the right nutrients can improve our mental health by reducing inflammation, aiding detoxification, balancing our blood sugar, balancing our hormones, improving our gut health, and providing the right building blocks to make the right hormones and neurotransmitters for better mental health.
There is increasing awareness that our current dietary patterns and lifestyles of processed foods and eating on the run, coupled with the environmental and social impacts of climate change, urbanisation, 24/7 technology, increasing noise, light, air, water and soil pollution, are all detrimental to our mental health.Logan, A. C., & Jacka, F. N. (2014). Nutritional psychiatry research: an emerging discipline and its intersection with global urbanization, environmental challenges and the evolutionary mismatch. Journal of physiological anthropology, 33(1), 22. https://doi.org/10.1186/1880-6805-33-22. https://www.ncbi.nlm.nih.gov/pmc/articles/PMC4131231/ [accessed 13th July 2020].
By returning to more traditional diets and nutrition patterns, and by making sure that we are obtaining optimal nutrients from better diets consumed in healthier emotional and physical environments, we can have a substantial positive impact on our mental health.
The single most important thing you can do to keep your brain functioning at its peak and prevent brain ageing […] you must be vigilant about what you put on your plate. It's as simple as that. Nutrition is the most important tool for staying mentally and physically fit.Perlmutter, D. and Colman, C. (2004). The Better Brain Book. New York: Riverhead Books, p. 61.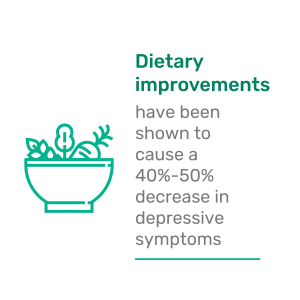 Stahl, S. T., Albert, S. M., Dew, M. A., Lockovich, M. H., & Reynolds, C. F. (2014). Coaching in Healthy Dietary Practices in At-Risk Older Adults: A Case of Indicated Depression Prevention. The American Journal of Psychiatry, 171(5), 499–505. https://ajp.psychiatryonline.org/doi/abs/10.1176/appi.ajp.2013.13101373.
Eating a balanced and varied diet is crucial for good mental health. Sarris, J., Logan, A. C., Akbaraly, T. N., Amminger, G. P., Balanzá-Martínez, V., Freeman, M. P., Hibbeln, J., Matsuoka, Y., Mischoulon, D., Mizoue, T., Nanri, A., Nishi, D., Ramsey, D., Rucklidge, J., Sanchez-Villegas, A., Scholey, A., Su, K. and Jacka, F. (2015). Nutritional medicine as mainstream in psychiatry. [online] The Lancet Psychiatry, 2 (3) pp. 271–274. Available at: https://www.ncbi.nlm.nih.gov/pubmed/26359904 [accessed 18 Aug. 2017].
The nutrients from the food you eat and absorb are the building blocks for making and maintaining healthy brain cells, neurotransmitters, and hormones, which are all essential for good mental health. Holt, S. and MacDonald, I. (2011). Depression: Natural Remedies That Really Work. Auckland [N.Z.]: Wairau Press, p. 155.
Nutrient therapy can be used on its own, or in parallel with psychiatric medication, and research demonstrates that the efficacy of psychiatric medication is greatly improved when nutritional imbalances are corrected.Walsh, W. (2014). Nutrient Power. New York, NY: Skyhorse Pub., Chapter 1. Davison, K. and Kaplan, B. (2012). Nutrient intakes are correlated with overall psychiatric functioning in adults with mood disorders. [online] The Canadian Journal of Psychiatry, 57(2), pp. 85–92. Available at: https://www.ncbi.nlm.nih.gov/pubmed/22340148 [accessed 18 Aug. 2017].
See below for guidelines on how to correct your nutrition and supplement for better mental health.
Other lifestyle and psycho-spiritual solutions to correct nutritional imbalances
As we have seen in nutritional imbalances, lifestyle and psycho-spiritual factors such as stress and poor state of mind can also lead to nutritional imbalances. Below are some solutions to these contributors which, in turn, can help you correct your nutrition.